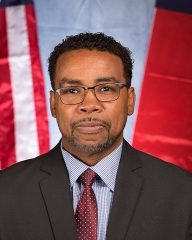 Email
Phone
Position
IT Director
Kirk Montgomery
Prior to working in Mebane, Kirk was the LIMS Manager for the NC State Lab and has worked in multiple capacities across the state.
His background brings over 30 years of experience in local and state government between NC and SC in the Planning Department, Information Technology, GIS Department, and State Laboratory.
Born and raised in Tabor City North Carolina
Associates Degree in Civil Engineering
Bachelor's Degree in Business Administration
Master's degree in Management Information Systems
Began career with the State of North Carolina at the University of North Carolina @ Chapel Hill in 1996
For the past 24 years, Kirk served the following state government agencies.
Department of Health and Human Services
Department of Environment and Natural Resources
State Department of Information Technology
Kirk has been married to his wife Pamela for over 25 years. They host a mid-week youth camp twice each summer.
Kirk is currently active in the State Employees Association of North Carolina (SEANC) where he currently holds the position of First Vice President. He was also the previous Treasurer for the organization. Kirk has also been appointed as the Officer Liaison for SEANC Emerging Leaders.