A letter from the Mayor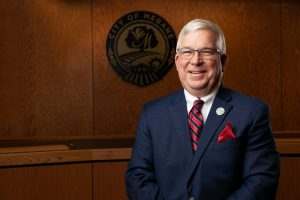 Come experience Mebane, North Carolina's most vibrant community. We enthusiastically welcome new businesses and residents with excellent amenities and affordable properties.
Mebane is ideally located in North Carolina's Piedmont region, midway between the majestic Blue Ridge Mountains and the state's beautiful barrier island coastline. With two interstate highways running through our city and a number of nationally known universities and medical center close by, we offer an ideal environment for our highly diversified business community.
Residents of Mebane enjoy an abundance of recreational opportunities and public schools that rate highly in state scoring data. Our growth in new housing continues, providing citizens a wide range of residential options.
We hope you will enjoy exploring all that our positively charming city has to offer.
Cordially,
Ed Hooks