Downtown Mebane Halloween Spooktacular
11:00am - 2:00pm
Downtown Mebane Pocket Park
102 East Ruffin Street, Mebane, NC 27302
---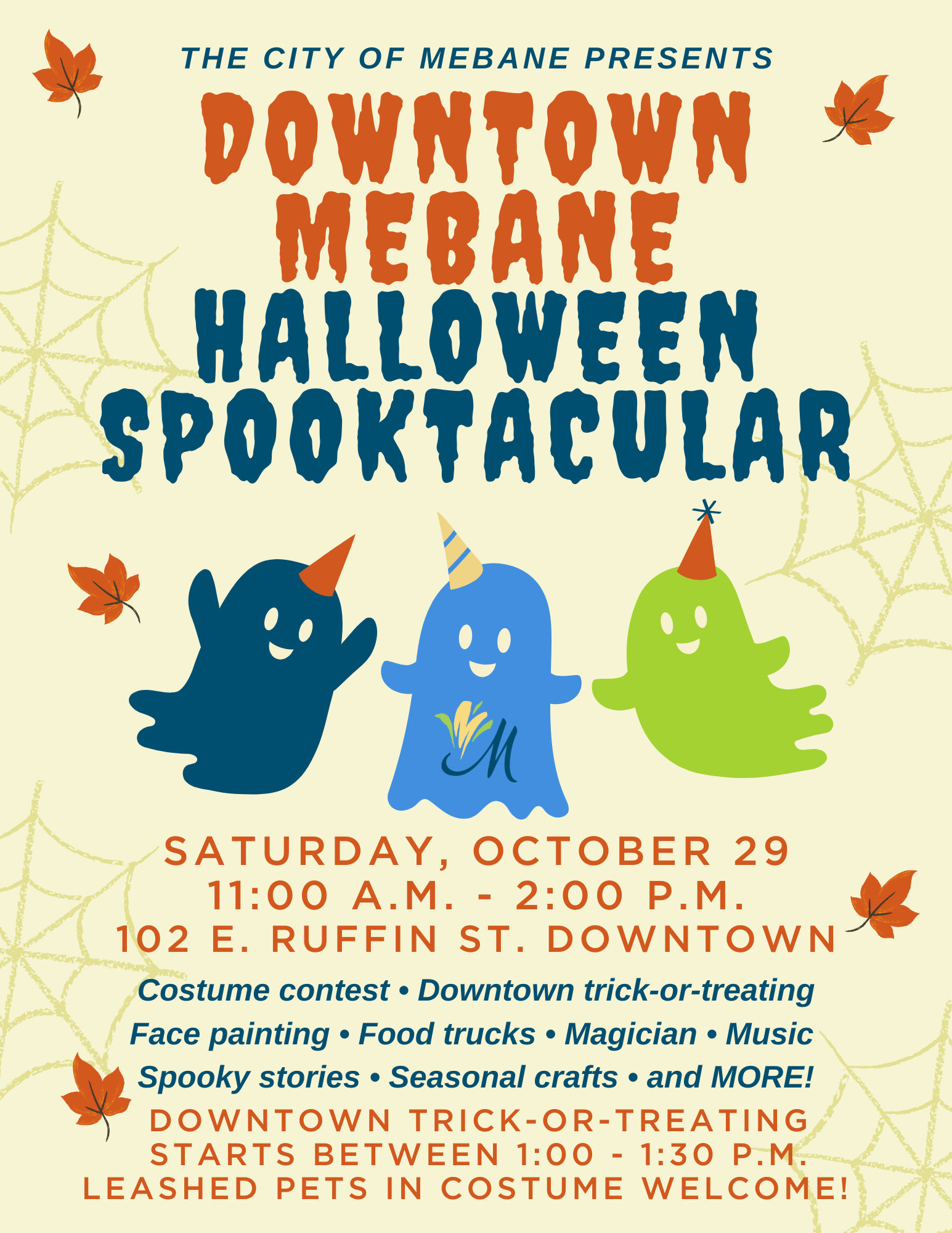 We are excited to announce our upcoming Downtown Mebane Halloween Spooktacular! Join us on Saturday, October 29 from 11:00 a.m. to 2:00 p.m. for a spooktacular costume contest, downtown trick-or-treating, music, food trucks/vendors and MORE!
Schedule of Events:
11 – Balloon Artist, Face Painting, Eastern Alamance High School Winter Sports Teams, Food Trucks/Vendors, Mobile Library, NC Herpetological Society, Spooky Crafts and Touch-a-Truck (will continue throughout)!
11-11:30 – Music
11:30-11:45 – Alamance Arts Witches Performance
11:45-12:15 – Alamance County Public Libraries: Spooky Storytime
12:15-12:45 – Magic Show
12:45-1:15 – Costume Contest Awards
1:15-2 – Downtown Trick-or-Treating
Food Trucks/Vendors:
3Boys Catering
B&P Concessions
Taqueria Jalisco
List of businesses participating in downtown trick-or-treating (additional businesses may be added):
Big Oak Restoration
Clay Street Tavern & Provisions
Coldwell Banker
Discount Furniture Connection
Eclection Emporium
Edward Jones
Grit & Grace
Hyperion Bar & Lounge
Impulsive Creativity
Junction on 70
L.A.K.E. Designs
Mebane Bible Church
Melomaniac Records & Café
Metanoia
Muffin's Ice Cream Shoppe
Solgarden
Sweet Grace Market
The Curious Peddler
The Gourmet Grove Olive Oil Company
The Law Office of Saprina Brown Taylor
Whiskey Sowers
Important Event Reminder:
Leashed pets are allowed, please bring the proper supplies to clean up after your pets.  Aggressive pets must stay home!