Fire Station Tours
The Mebane Fire Department offers educational fire station tours to individuals, community groups and schools. Tours include a short educational session and having a look at equipment, fire apparatus and areas of the station, followed by a question and answer period.
Guidelines
Group tours must be scheduled a minimum of a week in advance.
Please understand the firefighters may be called away with no notification due to an emergency response.  In the event the entire crew is called away during your visit, the group must leave and we will be happy to reschedule for another day.
If the crew is not at the station for a scheduled tour, they may have been called away due to an emergency.  Please wait whatever you feel is a reasonable amount of time.  If the crew does not return, please contact us at (919) 563-5718 to re-schedule the tour.
Parents/Caregivers/Chaperones must keep an eye on their children.  The fire department is a workplace that contains equipment not intended for use near children and we ask you supervise them throughout the tour.
No climbing on furniture, equipment or apparatus unless you are given permission by the firefighters.
Tours are for educational purposes only.  We do not accommodate requests for birthday parties or non-educational events.  There are no facilities available for you to serve food/drinks/cake.
Daycare/Classroom Visits
We offer a variety of educational fire prevention classes tailored to meet the needs and ages of daycare or school children.  Schools, community groups and daycares can request an educational visit from the fire department to help promote fire safety.  We will provide an interactive fire and life safety presentation designed specifically for your requested age group.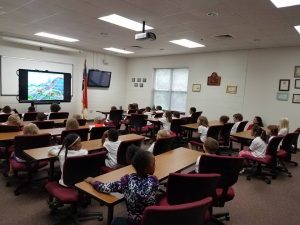 Safety Presentations
Fire Prevention
Firefighters are Community Helpers
Firefighters Gear and Equipment
Fire Truck Display