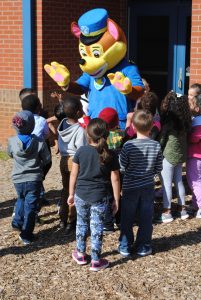 "The philosophy of the Mebane Police Department is Community Oriented Policing. MPD works with the community to create communication bridges, avenues for information-sharing, and pro-active, co-active policing to ensure the highest quality of life for our community."
Community Oriented Policing entails so much more than answering calls for service. And it is our aim to ensure that the Mebane Community has access to the discussion forums, the programs, and the personnel to create strong, long lasting partnerships in Mebane, meeting residents and guests needs alike, thus creating a great community in which to work and live.
It has been recognized that traditional law enforcement responses to crime and disorder, by themselves, are ineffective. C.O.P. was conceived as the result of a realization that many causal factors that contribute to criminal behavior include social and environmental issues that may not fit into traditionally accepted law enforcement methods. These broader problems are best identified and addressed through this community and police partnership.
It is important that C.O.P. be recognized, accepted and promoted not as a program, but a philosophy. Community Oriented Policing does not simply require a change in the way we think and interact with the public. It is not merely a community relations program. There are definite factors that separate the Community Oriented Policing philosophy from other police programs.
In order to achieve a true C.O.P. partnership with citizens, police must integrate with the community. Officers are assigned to permanent districts where they enjoy the freedom and autonomy to work with the citizens using innovative and creative long-term solutions to resolve community problems. Police officers and citizens are empowered to explore new, proactive initiative, to help solve problems before they occur or escalate.
C.O.P. is a revitalization of an age-old concept where citizens and police officers know one another and work closely together to positively impact social problems in the community and improve the quality of life. For Mebane, C.O.P. is an opportunity to maximize our working relationship with the community that will, in turn, result in improved police service.
Community Programs
As a part of its dedication to community oriented policing, the Mebane Police Department is involved in the following programs, among others:
​
National Night Out
National Night Out is an annual community-building campaign that promotes police-community partnerships and neighborhood camaraderie to make our neighborhoods safer, better places to live. Together, we are making that happen.
National Night Out enhances the relationship between neighbors and law enforcement while bringing back a true sense of community and provides a great opportunity to bring police and neighbors together under positive circumstances.
Neighborhoods across the nation host block parties, festivals, parades, cookouts and other various community events with safety demonstrations, seminars, youth events, visits from emergency personnel and exhibits.
History of the Citizens' Police Academy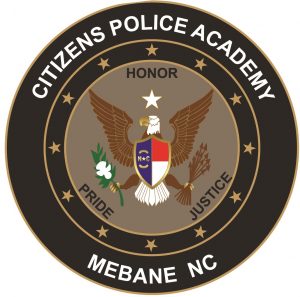 This program did not originate with the Mebane Police Department. Like all police agencies, Mebane PD "borrows" ideas from other police departments, from both home and abroad. We then tailor these ideas to suit our particular needs.  The idea of a Citizens' Police Academy is generally credited to the Devon and Cornwall Constabulary of the United Kingdom. The first program was implemented in 1977, and was known as the "Police Night School."  This school was designed to familiarize private citizens with the nature of police work and the organization of the British Police System.
In 1985, the Orlando, Florida Police Department became the first law enforcement agency in the United States to adopt the British model for a Citizens' Police Academy. Other U.S. departments have since created similar programs.
The Mebane Police Department implemented its first Citizens' Police Academy in January 2016. Since this is the first academy, the Mebane Police Department looks to build a successful program and promote a long lasting citizen-police partnership.
In developing the Mebane Police Department's Citizens' Police Academy, we researched other agencies' programs that proved successful.  We incorporated many of their ideas and instructional topics as well as our own to create our current program.  We will continue to make enhancements to the program to ensure an informative learning experience.
Our mission is to provide a training program that citizen's find useful – a course that focuses on the realities of policing and the problems within the community that require our joint efforts to solve.
Police Department Tours
The Mebane Police Department opens our doors to local schools and programs to show them around the police department. An officer will meet with groups and walk them through the police department while explaining the different aspects of police work.  At the end of the tour, as long as a patrol car is available, the group will be taken out to the parking lot to look at one of the Mebane Police Department patrol cars.
To Schedule a police department tour contact Lieutenant A. Cole at 919-563-9031 or at [email protected]
Finger Printing
The Mebane Police Department does fingerprinting for our citizens of Mebane on Tuesdays and Thursdays of each week from 8:00 a.m. to 5:00 p.m.  Just come by the police department with the paperwork you need filled out along with fingerprint card and an officer will assist you.
Residential Security Checks
Residential checks is a service that the Mebane Police Department extends to our citizens while they are away from their homes for whatever reason.  Officers will check on the residence during the absence of the homeowner or resident while they are away.  It is important to remember to follow some simple steps while away from home in order to keep from tipping off the criminals of your absence.  Suspend your papers and mail or have someone come by on a daily bases to pick them up.  When people see a pile of newspapers at the end of your driveway it lets them know you are not home.  Other things you can do is to put your lights on a timer as well as a radio or TV.  Click below to download a residential security check form.
Special Olympics
The North Carolina Law Enforcement Torch Run® for Special Olympics unites officers from law enforcement agencies and corrections departments across the state in an effort to raise funds and awareness for Special Olympics North Carolina   The Torch Run efforts to raise funds include: collecting corporate sponsorships, T-shirt and hat donations and hosting unique fundraising events such as building sits, polar plunges and golf tournaments. Each summer, law enforcement officials carry the Flame of Hope across the state in The Torch Run Final Leg, culminating in the lighting of the cauldron to officially open the Special Olympics North Carolina Summer Games in Raleigh. The 2,000-mile, 15-day Torch Run Relay involves more than 2,500 law enforcement officers and personnel representing more than 200 law enforcement agencies across North Carolina.
The Mebane Police Department is a proud sponsor of the Special Olympics and we are encouraged by the help we receive from our community.  Please keep up with our events and come out to support our efforts.